Apakah kalian seorang penari? pasti pernah dengar apa itu tarian salsa. nah disini sekarang mimin akan menjelaskan apa itu tarian salsa dan segala yang menyangkut dengan tarian salsa
Latar Belakang Tarian Salsa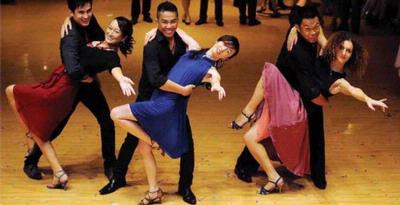 Salsa" berasal dari bahasa Spanyol yang secara harafiah berarti saus ( inggris : "Sauce" ) yang secara spesifik sebetulnya merupakan sejenis saus sambal / saus pedas yang biasanya digunakan untuk makanan Amerika Latin. Namun, pengertian Salsa sebagai sebuah dance dan aliran musik ternyata telah melewati perjalanan sejarah yang sangat panjang dan penuh dengan kontroversi.
Mungkin nenek moyang dari musik "Salsa" yang kita ketahui sekarang adalah yang sebetulnya dahulu disebut sebagai Cuban Son, sebuah aliran musik yang berasal dari provinsi Oriente di daerah Cuba. Cuban Son mulai terbentuk pada akhir abad 19, dengan mewakili perpaduan budaya Afrika dan Spanyol, memadukan konsep rhythm, harmoni, dan melodi dari kedua belah tradisi. Pada awal abad 20, musik Son telah merasuki berbagai genre musik Cuba, dengan ciri khas adanya ritmik clave yang sampai sekarang menjadi trade mark musik Salsa. Alat-alat musik tradisional yang digunakan pada awal lahirnya Son diantaranya tres, bongo, clave, maracas, güiro, dan instrument yang mewakili bass ( marímbula, botija, atau contra bass ala eropa ), serta vokal. Sebelum dimulainya penggunaan instrument piano dan guitar, tres merupakan satu-satunya instrument melodis yang bertanggungjawab menyediakan unsur melodic dan harmonic pada lagu.
Pada tahun 1940, beberapa grup Cuba mengembangkan son-montuno, yang kemudian lahir menjadi musik dansa yang sangat digemari. Saat itulah son-montuno sudah berkembang dengan diikutsertakannya instrument-instrument seperti brass section, piano, conga, dll.
Salsa juga memiliki unsur tarian swing. Tidak ada peraturan yang baku mengenai bagaimana menari salsa, meskipun ada gaya tarian salsa tertentu yang dikenali secara umum.
Musik Yang Sering Muncul pada Kegiatan Tari Salsa
Musik Salsa merupakan gabungan antara musik tradisional Afrika dan Kuba serta irama Amerika Latin lainnya yang dimulai dari kota New York antara tahun 1940 dan 1970. Tarian salsa yang sekarang, dilakukan berdasarkan musik salsa yang berasal dari Son Kuba, namun dipengaruhi oleh tarian Kuba lainnya seperti Mambo, Chá, Guaracha,Changuí, Lukumí, Palo Monte, Rumba, Yambú, Abakuá, Comparsa dan kadang-kadang Mozambik.
Gerakan tarian salsa :
Istilah gerakan pada Salsa
Sideway basic adalah gerakan dasar Salsa paling sederhana, yaitu gerakan langkah menyamping ke kanan dan ke kiri, bukan ke belakang dan ke depan. Langkah ini juga disebut 'side drop'.
Side & cross step adalah langkah menyamping, kaki kanan disilangkan di depan kaki kiri
Cuban Open Step adalah variasi dasar dari langkah mundur, langkah mundur diambil secara diagonal dengan membuka ke samping kiri dan kanan.
Cucaracha dalam bahasa Spanyol berarti kecoa, adalah nama untuk posisi kedua langkah berhenti. cucaracha adalah figure dasar Salsa yang terdiri atas gerakan sisi kiri dan kanan, gerakan ini berperan membantu dalam membangun ritme dan pengaturan tempo tarian Salsa.
The Underarm turn adalah gerakan memutar. dalam hal ini penari wanita memutar berlawanan arah jarum jam.
The Inside turn adalah kebalikan dari the underarm turn. Penari wanita memutar sesuai arah jarum jam.
Spot turn, salah satu penari atau kedua penari secara bergiliran memutar sejauh 360°, dan berhenti pada tempat yang sama.
Extension, gerakan saling meluruskan lengan di antara mereka dengan berlawanan arah.
Dalam hal ini penari pria memegang tangan dan menarik wanita dengan tangan kanan sementara tangan kiri ditempatkan di atas kepalanya dan penari wanita memutar 180° ke kiri. Kemudian penari wanita didorong kembali keluar, sehingga berputar setengah putaran ke kiri kembali menghadap ke penari pria.
Penari wanita melakukan gerakan memutar ke samping berlawanan dengan penari pria, sehingga menyebabkan bertukar posisi dengan berlawanan arah jarum jam
Gerakan ini seperti cross body lead namun perbedaannya adalah gerakan bertukar posisi penari searah jarum jam.
Basket adalah jenis gerakan dimana penari pria di posisikan di belakang penari wanita dan memegang lengan wanita membungkus bahunya saat dia berhenti ke depan lalu penari pria mundur.
Windmill adalah gerakan dimana penari wanita berputar, dan tangan penari pria berputar melewati atas kepala penari wanita, lengan penari pria berputar ke bawah dan atas.
Untuk masalah kostum, pada tarian salsa biasa menggunakan kostum yang elegant dan simple untuk memudahkan pada aksi tariannya. Dan sering menggunakan kostum yang serupa dengan ragam warna yang sepasang dengan pasangannya. Untuk lebih jelas gambar diatas.